2021 Pitch, Hit & Run Competition

Mark June 19th on your calendar! We are excited to announce the return of Pitch, Hit & Run! This event is open to any players aged 7-13 and will run from 9 am to Noon. Registration takes place at 9 am.
more info
2021 Home Run Derby

Also on June 19th - we are happy to announce our first T-Mobile Home Run Derby! This event is open to SLL registered players aged 9-12, and will take place at 2 pm.
more info
Swansea Senior Little League Play-offs

June 19th, 10 am - Senior League playoff action on the Upper Senior League field

Swansea Little League Fan Gear is HERE!!!



Look sharp on and off the field!

Get yours today, visit our online shop:

http://sll.spiritsale.com


Support Swansea Little League with Amazon Smile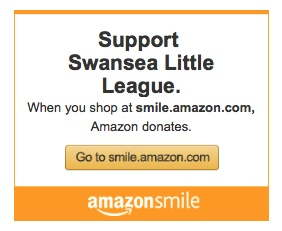 We are pleased to announce our partnership with AmazonSmile!

The program will automatically donate 0.5% of your purchases to the charity of your choice. Simply select Swansea Little League as your recipient organization and shop as you usually would.
There is no cost to participate, and there are no changes to the way you shop. These little donations add up and you get to do a world of good.

Thank you for your support!!
Thank You for the Menu Screen Donation!
A shout out to Straight Outta Swansea and a big thank you for the new menu screen donation for our snack shack! You can LIKE them on Facebook.

NOTICE: SWANSEA LITTLE LEAGUE LOGO CHANGE ANNOUNCEMENT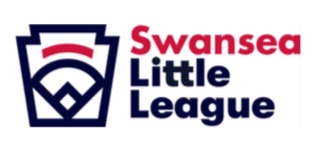 In 2020 Little League International announced a change to the Little League emblem. The new Little League emblem is a modern interpretation of the heritage of Little League. Its structure has been streamlined for flexibility across all media, as well as to represent all Baseball, Softball, and Challenger divisions in one, unified design.

"One Team. One Little League"

In this spirit, the Swansea Little League Board of Directors decided our league should evolve our logo to coincide with this change. We have followed Little League International by creating a modern interpretation of our logo that incorporates the Little League colors and emblem.
Please click here to read the entire announcement.(

)
(click to view right-click or ctl-click to download)
2021 Swansea Little League Safety Plan
The 2021 Swansea Little League Safety Plan can be downloaded here (

)
(click to view right-click or ctl-click to download)
2021 Swansea Little League Officers

Congratulations to the newly elected officers for the 2021 Season:
John Preston, President
Al Dias, Vice President/Senior Director
Joe Martin, Vice President/Umpire-in-Chief
Marc Haslam, Vice-President
Jeff Wood, Treasurer
Jay Picard, Secretary
Joe Arruda, Safety Officer
Kim LeBreux, Concession Director
Chris Kenyon, T-Ball Director
Jameson Akers, Instructional Director
Mike Soares, Farm Director
Steve Cantafio, Major Director
Nicole Santos, Challenger Director
Doug McLane, Sponsor Fundraising Manager
Michael Deady, Marketing/Public Relations Manager
Gil Almeida, League Information Officer
Non-Swansea Residents

We have received many inquiries from non-Swansea residents interested in playing with us this season. Unfortunately at this time we will not be accepting new registrations from non-Swansea players. To insure that ALL players comply with the necessary guidelines it is important to keep our teams smaller and more manageable for the coaches.
Challenger Division
Swansea Little League supports a Challenger Division for children with disabilities ages 5-18. This division supports not only Swansea but the Southeastern Massachusetts area. If you would like more information on this division please contact division director Nicole Santos at (508) 813-5578
Swansea Little League CORI Policy
please click here to review the Swansea Little League CORI Policy (

)
Keep our Fields Clean!
Please keep our fields clean! Clean your dugout before you leave! If you see trash, please pick it up and throw it away - don't just walk by it. It takes ALL of us to keep our fields clean.
REMINDER: PETS ARE NOT ALLOWED
The League would like to take this opportunity to remind everyone that pets are NOT ALLOWED at the Swansea Little League Fields. This rule is in place to ensure a safe environment for all players and spectators.
Effective immediately this rule will be strictly enforced during all Little League events.
Swansea Little League Accident / Injury Policy
Please click here to view the Swansea Little League Accident / Injury Policy (

) and click here to view the Injury Tracking Form (

).
All accidents or injuries MUST be reported within 24 hours of the incident.
For more information, please contact Joe Arruda, Swansea Little League Safety Officer, with any questions - via phone @ (401)464-2753 or via e-mail @ josephjarruda@gmail.com.
Thank You Meganet Communications
A big thank you goes out to Meganet Communications for increasing our website storage space so that we can share more photos and announcements with our Little League families. Meganet has generously sponsored Swansea Little League by donating our web hosting space since the late 1990's when the league first went online. Thank you Meganet Communications! BTW - If anyone has all star photos or division champ photos from past years that can fill in our pages, please share! You can send them to swanseall@yahoo.com.