League History:
District Champs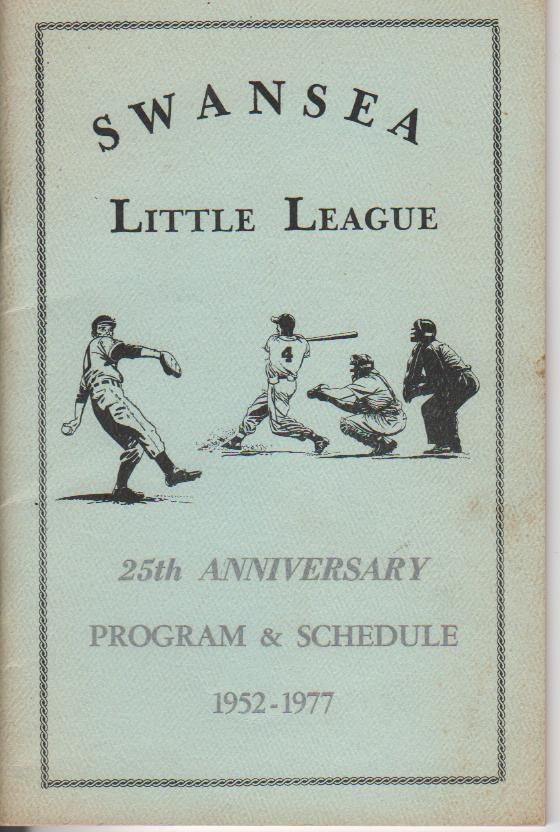 The Swansea Little League was established in 1952 under the direction of league President James McDonald, Vice-President William Ratcliffe, Secretary Antone Costa, Treasurer Stanley Baker and Advisory Board Members William Marr, Herbert Walker, Patrick Callahan, Bruno Ward and William Edgar.


Swansea Little League
P.O. Box 422
Swansea, MA 02777
To contact a Swansea Little League representative for general questions concerning the league, please e-mail us at


2005 District 6 Little League Champions
12 Year Old Little League All Stars
Mike Bjorge, Dylan Buckborough, Neil Carey, Kyle Coffey, John LaPointe, Cody Lyne, Mark MacKenzie, Mike McDermett, Ryan Moniz, Ben Monteiro, Brandon Pacheco and John Seddon; Manager Joe Monteiro
Anyone have a photo?
Tournament Results
District 6 tournament:
6/29 - vs Taunton E. Am @ Somerset - WIN
7/1 - vs Somerset @ Somerset - WIN
7/5 - vs Taunton E. Ntn'l @ Swansea - WIN (4-1)
7/6 - Taunton W. Ntn'l @ Taunton West - WIN (5-1)
7/12 - vs Taunton W. National @ Swansea - WIN (7-1)
State Tournament:
7/21 - vs Dudley @ Millbury - LOSS (2-1)
7/22 - vs Middleboro @ Plymouth - LOSS (14-5)
click here for Mass State Tournament Results (District 6)